Horizontal Gallery
Luxembourg Private Equity Seminar
New York Athletic Club,180 Central Park South, NY 10019 United States | June 19, 2019 | 8:00 am – 11:00 am
Photos from the 2019 edition
Photos from the 2019 edition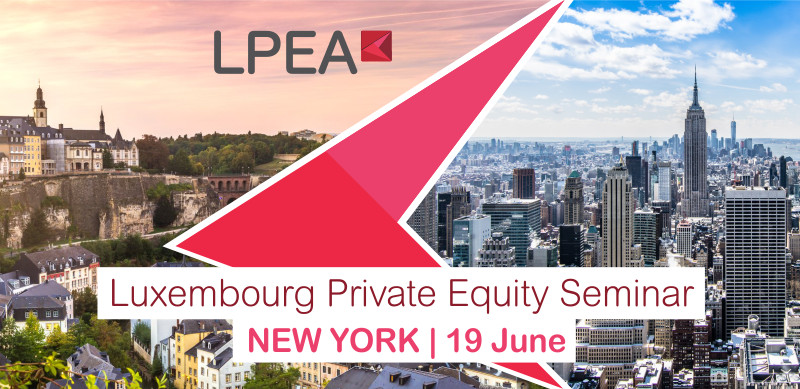 You may also be interested in the similar event that we will be hosting in Chicago on June 20th.
The Luxembourg Private Equity and Venture Capital Association (LPEA) will host a seminar in New York about Luxembourg as a hub for private equity investments. With a fast-growing private equity community estimated at USD 500 billion and an increasing presence of US private equity fund managers, Luxembourg is the go-to jurisdiction to set up and operate your US investments in the EU market.
Featuring members such as Carlyle Group, Blackstone Group, Apollo Global Management, TPG, Oaktree Capital Management or Bain Capital, the LPEA is the leading association providing support to fund managers, knowledge sharing and networking opportunities and a first point of contact for professionals seeking the latest market update on best practices and applicable regulation.
We invite all New York-based PE/VC professionals to join us for breakfast in the context of an information session held in the premises of the New York Athletic Club.
If you have yourself an interesting experience in dealing with Luxembourg or if you would like a specific subject to be addressed, pleased don't hesitate to share it with us ahead of the event by e-mail.
Photos from last year's edition.
Agenda
8 am – Registration & breakfast
8.30 am – Welcome by Jeanne Crauser, General Consul of Luxembourg in New York
8.35 am – Luxembourg Overview by Pierre Beissel, Board Member of LPEA
8.40 am – Views on the European PE scene from the US
EU PE trends; US appetite for EU PE; Luxembourg role / at the heart of Europe?
Patrick Dunleavy, Managing Director, Moelis & Company
Arnaud Bon, PE-RE Director, Deloitte
9.00 am – How to raise capital from European Investors
Passport PPR reverse solicitation; Investor preferences; Operating model of third party ManCo; Operating model of own ManCo
Luc de Vet, European AIF Leader, Carne Group
Ed Winters, Senior Manager, US-Luxembourg Desk, Allen & Overy LLP
Thomas Goergen, Partner, LIS (Sanne)
Laurent Capolaghi, Partner, EY (moderator)
9.40 am – Tax Aspects by Emilien Lebas, Partner / Head of Luxembourg tax desk, KPMG
Anti Tax Avoidance directive (ATAD); Multilateral Instrument (MLI); US tax reform; choice of Luxembourg vehicles; deal structuring
9.55 am – GP Feedback (Interview)
Stephen Swanson, Assistant General Counsel, Invesco
Pierre Beissel, Partner, Arendt & Medernach
10.15 am – Closing
Speakers
Sponsors
Masonry Gallery