Buyout as an Exit Strategy for SME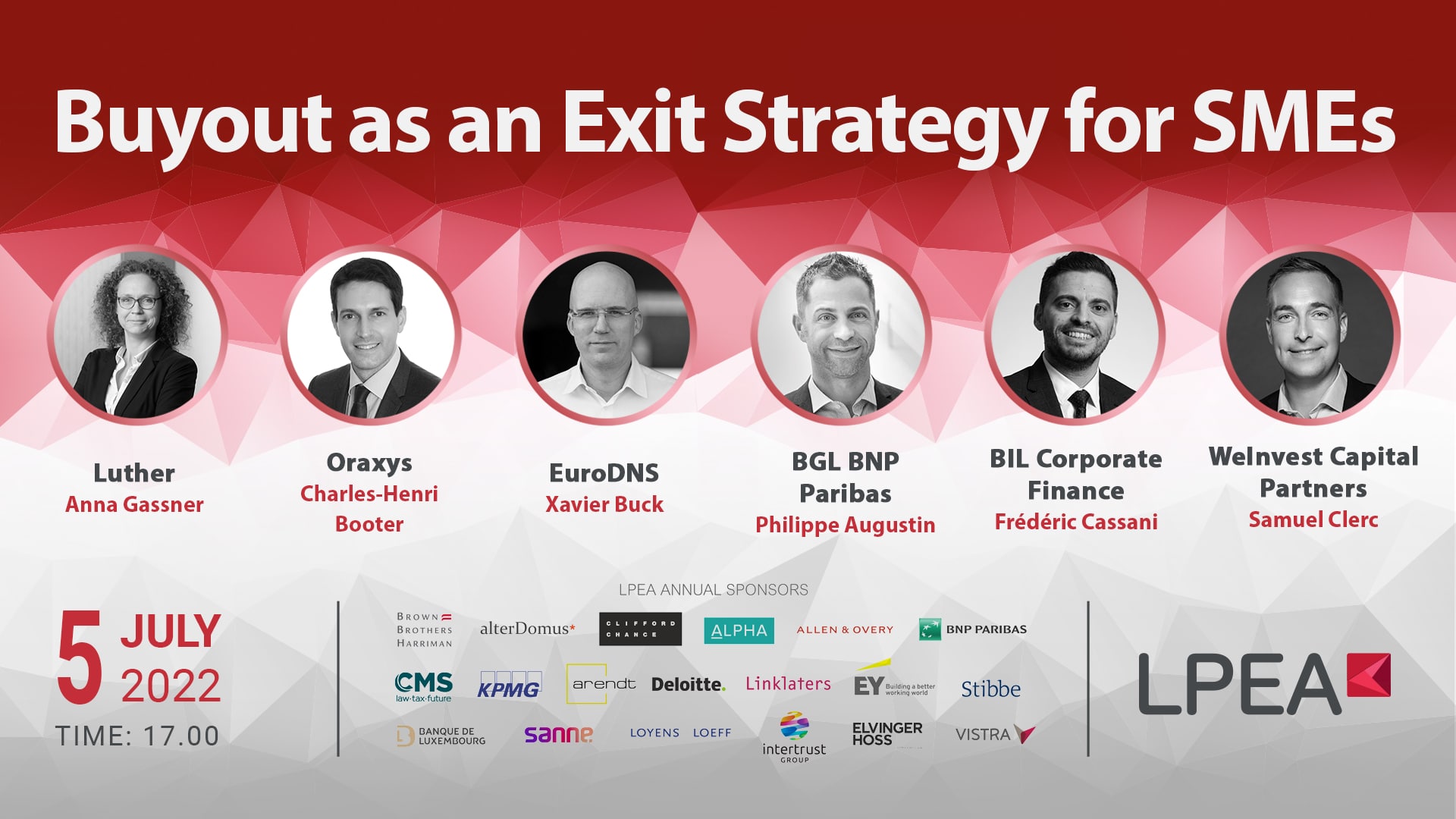 Various speakers shared their experience on LBOs and explained why this type of transaction can be an efficient mean to achieve a smooth change of control, notably from one generation of owners and managers to another, and contribute to SME's sustainable growth.
Speakers:
 Anna Gassner – Luther
Charles-Henri Booter – Oraxys
Xavier Buck – EuroDNS
Philippe Augustin – BGL BNP Paribas
Frédéric Cassani – BIL Corporate Finance
Samuel Clerc – WeInvest Capital Partners
Speakers' Bios:
Anna Gasner:
Anna Gassner obtained a Master's Degree in Business Administration from the EM Business School in Strasbourg and a Master's Degree in Business Law from Robert Schumann University in Strasbourg. She has been a member of the Luxembourg Bar since 2017. Prior to joining Luther in 2018, she worked for a renowned independent law firm in Luxembourg and an M&A/Private Equity law firm in Paris.Anna is a Partner and a member of the Corporate/M&A practice. Anna's legal practice focuses on commercial and corporate matters. She also advises clients on the full spectrum of local and international equity capital transactions, such as mergers and acquisitions, private equity transactions, leveraged buyouts, and venture capital. Furthermore, Anna has gained sound experience in commercial litigation, particularly in shareholders and franchising disputes.
Charles-Henri Booter:
Charles-Henri Booter is an Investment Director at ORAXYS. For nearly 16 years, he has been supporting company executives in their development and acquisition-sale projects, including 8 years in Private Equity. Prior to joining Oraxys, he worked at Turenne Capital in Paris and then opened the office in the Grand Est-Luxembourg region. Charles-Henri has previously created and developed the investment company of Caisse d'Epargne Ile-de-France in association with Natixis Private Equity. Charles-Henri Booter holds a Master in Financial and Fiscal Engineering from ESCP Business School in Paris.
Xavier Buck:
Xavier Buck is a Luxembourg entrepreneur and investor who, over the last 20 years, has made a name for himself in the field of information and communication technologies. In particular, he founded the domain name registrar EuroDNS (NameSpace Group) and the hosting company Datacenter Luxembourg in 2000. In 2012, he created the Dicé Invest investment vehicle to enable him to support and invest in start-ups and companies with potential.
Philippe Augustin:
– Banking experience of 18 years (always BGL)
Relationship Manager Commercial Banking between 2008-2014
Head of Commercial Banking (SMEs with a turnover between 7,5-250 MEUR) at BGL between 2014-2021
Head of Innovation Hub at BGL between 2016-2021
Head of BGL BNPP Development since 03/2021
Frédéric Cassani:
Frédéric has 17 years of experience in investment & international banking. He hold different positions at Banque International à Luxembourg, in the Coverage & Investment Portfolio team and later in the Structured Finance & Syndication department where he co-set up the business. He was in charge of originating and structuring corporate acquisition finance transactions in various sectors such as Technology, Real Estate, Business Services, Consumer Goods & Retail and Industrials sector.
He has advised, participated and led more than 60 transactions in small & mid-market in Europe totaling over 1.6 billion euros.
In 2021, Fred set up the Corporate Finance activity for BIL in Luxembourg. BIL Corporate Finance provides a unique offer combining lending and advisory services to our entrepreneur and family-owned corporate clients in the context of strategic transactions (acquisition, major investment, transmission, management buy-out, etc.). BIL Corporate Finance delivers tailor-made solutions across the capital structure (structured finance, debt advisory, equity and quasi-equity, M&A) and brings a wealth of experience in terms of products, sectors and geographies, covering the Benelux, Switzerland, France, Germany and Greater China. Before rejoining BIL, he worked as Credit Analyst for SGCIB in Luxembourg, as Corporate Relationship Manager for HSBC in France & in the UK, as Corporate Relationship Manager for Banque Populaire in France and as Auditor for Mazars in Luxembourg.
Samuel Clerc:
Samuel Clerc is Managing Partner at WeInvest Capital Partners, a boutique specialized in Private Equity and Real Estate Investments. He gained a sound and deep experience in direct investments for all types of private equity transactions from Venture Capital to Growth & LBO through sourcing, execution, monitoring and exit deals as an Investment Director within a small cap investment funds manager for 6 years. He also worked as Investment Manager at the European Investment Fund on the lower mid-market segment, being involved in several significant investments throughout Europe. In addition to his expertise in Private Equity, Samuel has also restructured a small cap engineering group in financial distress as deputy CEO.
Samuel Clerc holds a Bachelor of science, a Master in Corporate Finance and is CFA Charterholder.