Getting your product to the investor – what changes are kicking in this summer and how will they impact your sales activities?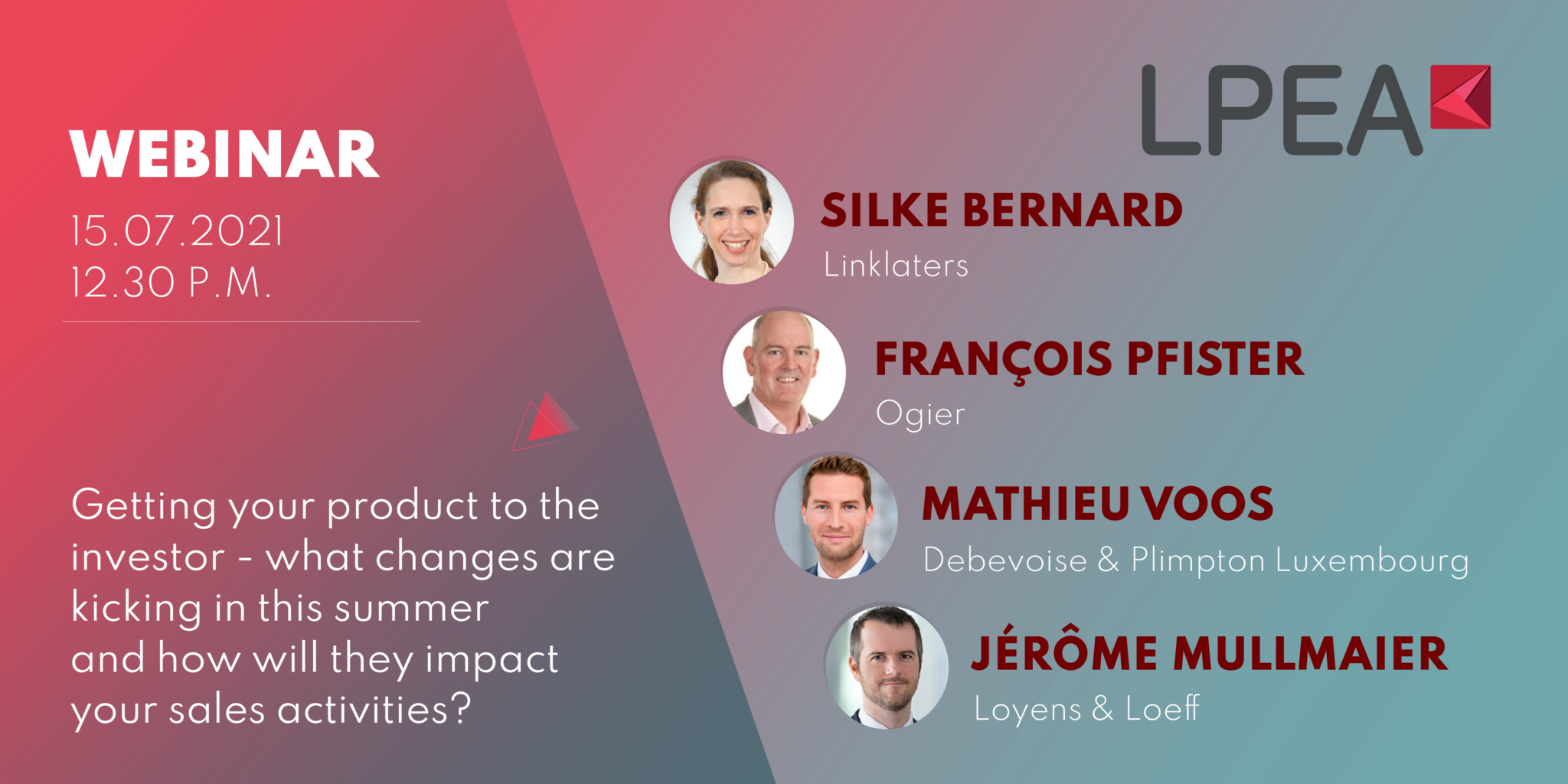 Speaker's Bios
Silke Bernard: Silke specialises in alternative investment funds, being the key contact for some of the largest global fund sponsors in private markets.Her practice covers the full range of investment funds: retail and professional funds, with special expertise in alternative investment funds such as private equity, real estate, private credit and other alternative asset funds and investment management arrangements. Silke has been the counsel for several ground-breaking deals for some of the largest asset managers. Her practice includes the structuring, establishment and regulation of funds and asset management businesses, including the setting-up of co-investment structures, tailored managed accounts e.g. for sovereign investors and regulatory work (e.g. licensing and passporting procedures) in the asset management sphere. Silke covers all types of diversified, regulated, unregulated and tailored investment structures .Silke has further deep knowledge of retail investor funds (UCITS and UCIs) and is the legal counsel to several flagship funds. She is chairing several working groups of the ALFI and of the LPEA. She is leading Luxembourg's industry efforts on ELTIF and on the PEPP. She is a committee member of the EFAMA in Brussels and is a regular speaker at various national and international conferences.
François Pfister: François is the founding partner of Ogier in Luxembourg in 2012. He has been its Managing Partner for several years and is presently a Senior Advisor to the Ogier Group. He also acts as an independent director in several Private Equity and Real Estate funds, regulated and unregulated, AIFMs and SPVs.
François has been active as a lawyer on tax, transactional and regulatory matters in the Private Equity sector since the late nineties.
Before that he has gained experience as an avocat and an in-house lawyer in the asset management, banking and media sectors.
He is a member of LPEA and ALFI working groups and the Secretary General of SOS Sahel International Luxembourg.
Mathieu Voos: Mathieu is a senior associate at Debevoise & Plimpton Luxembourg. Mr Voos' practice focusses on the structuring, setting-up and registration of regulated funds (UCITS, SIFs and SICARs) and unregulated funds (LPs and RAIFs), with a particular focus on alternative investment structures and private equity. He also assists clients on the establishment of UCITS ManCos, AIFMs and asset management-related MIFID firms.
Mr. Voos provides ongoing regulatory advice for Luxembourg funds, as well as related areas of funds business and transactions.
Mr. Voos is an active member of the Association of the Luxembourg Fund Industry (ALFI) and the Luxembourg Private Equity Association (LPEA). He co-chairs LPEA's Legal – Young PE Leaders Committee, and is a member of the LPEA's reserved alternative investment funds technical committee. He also serves on Invest Europe's European Long Term Investment Funds Task Force.
Jérôme Mullmaier: Jérôme, partner, is a member of the Investment Management Practice Group in the Luxembourg office of Loyens & Loeff. His practice covers fund formation with a focus on alternative strategies (private equity, real estate, infrastructure and debt). He is advising global asset managers on the establishment of private funds (AIFs) both on the legal and regulatory side. He has also developed significant expertise in assisting fund sponsors with the formation of their co-investment and carried interest schemes.
Based in Luxembourg, Jérôme also worked at the London office of Loyens & Loeff where he gained broad international experience and advised UK based clients on matters related to Luxembourg alternative funds.
Jérôme is an active member of working groups of the Luxembourg Private Equity Association (LPEA) and Luxembourg fund association (ALFI). He has authored many articles covering fund formation and associated regulatory aspects. He notably contributed to the writing of "The Alternative Investment Fund Managers Directive", International Banking and Finance Law Series, Wolters Kluwer, 2020.
THIS WEBINAR WAS OPEN JUST FOR LPEA MEMBERS
Our members has an access to our library where they can find a video recording of this session: https://lpea.lu/media/members-exclusive-webinars/ . If you do not have a password, please, contact [email protected]