Horizontal Gallery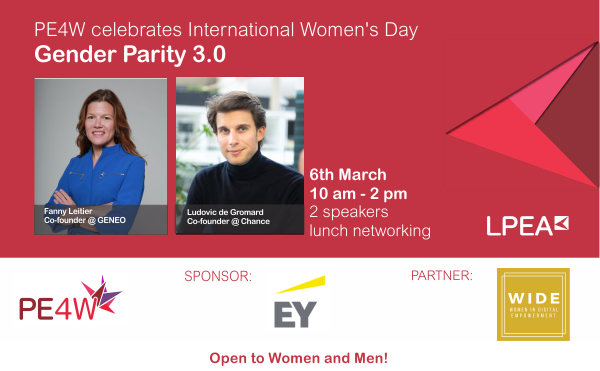 Gender Parity 3.0
PE4W celebrates International Women's Day
The PE4W initiative is delighted to invite you to join our first formal celebration that marks this year's International Women's Day, on March 6th at 10 am.
We will host 2 inspiring guests, both entrepreneurs who are actively bridging the gender and the diversity gap in their very own and innovative ways:
-Fanny Letier: Co-founder of Geneo Capital (https://geneocapitalentrepreneur.com/en/), a French PE fund backed by families and entrepreneurs. She is a multi award recipient and a hugely inspiring female figure in the world of PE where she was credited for top performing methods to support SME growth during her mandate at BPI. (check also this video)
-Ludovic de Gromard: Social entrepreneur and co-founder of Chance (www.chance.co) alongside Nobel Laureate Prof. Muhammad Yunus and Clemence Coghlan. He is a pioneer in the field of PsyTech. Chance is a start-up that intertwines psychology and technology to help people find their higher purpose in their careers with unique online tools, which closely touches upon gender parity, in its 3.0 version. (check also this video)
(Detailed biographies in attachment).
Fanny and Ludovic will hold keynote presentations, followed by Q&A's with the audience and a networking lunch.
This event is to learn, get inspired, and explore ideas together, while creating unique networking opportunities for our community based on our previously shared roadmap.
At PE4W, which now counts circa 100 members, we are aware and keen to build more diversity within the PE universe by empowering women and including men. All LPEA members are welcome, men AND women!
We have limited space where it is first come first serve, but we strive for a 50 / 50 attendance ratio between men and women!
We thank EY for hosting us!
Logistics
When: March 6th from 10 am until 2 pm
Where: EY- 5th floor main room.
Agenda
10:00 am WELCOME of participants
10.30 am Introduction by our host Isabelle Nicks, Partner and People Leader, EY
10.35 am Presentation of speakers by PEW4, Manon Aubry and Michaela Viskupicova
10.45 am Keynote by Fanny Letier
11.10 am Keynote by Ludovic de Gromard
11.35 am Q&A with Fanny and Ludovic
12.00 pm Closing remarks by Rajaa Mekouar
12.10 pm Networking & lunch
2 pm End of event
To register, please click on this link.