LPEA Breakfast in Munich (12/12/2017)
#LPEAroadshow | Meet us at the Literaturhaus München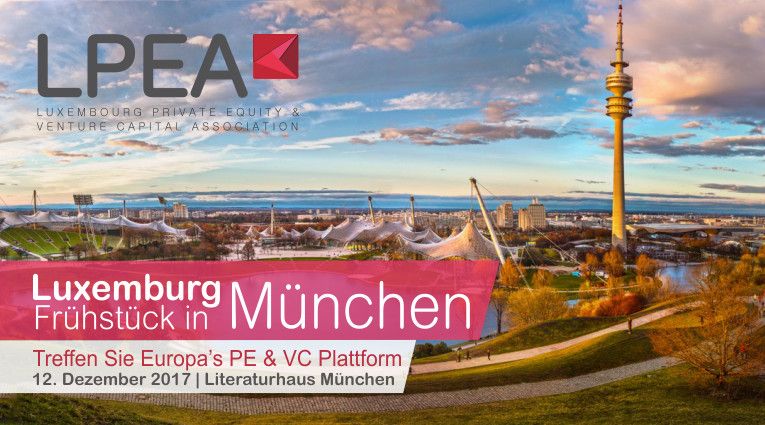 Die Luxembourg Private Equity and Venture Capital Association lädt zu ihrem diesjährigen Frühstücksseminar am 12. Dezember ein.
Luxemburg bleibt auch weitherhin der bevorzugte Standort für Initiatoren von PE und VC Fonds durch sein ideales Rechts-, Steuer- und Infrastrukturumfeld. In einem zweistündigen Seminar, das aus lokalen und luxemburgischen Experten besteht, besprechen wir mit Ihnen neue Strukturen und solche Themen, die die PE Fondsindustrie beschäftigt. Auch dieses Jahr wird ein Initiator seine Erfahrungen, gewählte Strukturen und Set-Up in Luxemburg mit Ihnen teilen.
Wie jedes Jahr ist das Seminar auch zum Networken mit luxemburgischen Teilnehmern gedacht.
Wir freuen uns, Sie auf unserem Seminar begrüssen zu dürfen.
LPEA returns to Munich for an information session targeted at asset managers featuring the latest developments of the Luxembourg legal, tax and regulatory framework.
12/12/2017
AGENDA
8.00 – Registration
8.30 – Eröffnung
8.40 – Pannel Discussion
Anforderungen deutscher Fondsinitiatoren und Investoren sowie Luxemburger Lösungen
Alle Luxemburger Strukturen auf einen Blick
Was zu beachten wäre: Governance & Substanz
Aktuelles
Fallbeispiel einer deutsch-luxemburgischen Erfolgsgeschichte
Zusammenfassung
Q & A
10:30 – Networking
Presentations and debate will be held in German.