By Luc Falempin, CEO at Tokeny Solutions
As featured in LPEA Insight/ Out magazine #19, September 2021.
The digital asset space continues to thrive and attract institutional investors, as according to PitchBook, $17 billion worth of institutional capital[1] has poured into the sector this year alone. Moreover, 70% of institutional investors expect to invest in digital assets[2] in the future. Since the funding in the space has exploded, traditional custodians are trying to figure out how they fit in as new players on this value chain. Custodian banks have been slow to adapt and are now struggling with managing digital asset custody. Even worse, they mix up crypto-currencies and tokenized financial securities.
Digital assets: new opportunities for custodians
It is natural that custodians need time to understand how blockchain technology works. Once that happens, the lucrative opportunities that await on the other side will become clear. Here, we listed a few benefits and opportunities:
New safekeeping service – As digital wallets are the access points for digital assets, custodians can provide custodial wallets for investors.
Reduced operational costs – When all investor positions are kept on the blockchain, it eliminates the need for reconciliation of depository in the process. This reduces the heavy reconciliation costs.
Immediate services – Custodians can provide immediate value-added services such as owning the recovery process for lost security tokens, reporting, tax certification, lending services and other collateral management services to investors. We used the word 'immediate' because with the blockchain, processing these services will use a single truth of information. Issuers, agents and investors can access the real-time data at any time. Services can be provided promptly by avoiding the lengthy process of flowing information throughout the traditional chain of custody and the risk of human errors.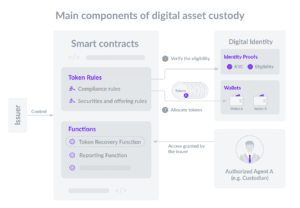 The main challenge is not regulation but the adoption of the new model
People often think the main challenge in this space is regulation, but it is actually not true. Instead, the real struggle for financial institutions including custodians is adopting new processes and new tools. When it comes to compliance, it is mostly about verifying the eligibility of investors. This can't be performed by identifying investor wallets, as they are browsers for the internet of value, not vaults. That is where digital identity comes into play, but how does it work? Let's take a look at the main characteristics in the blockchain-based model of custody to provide some clarity:
Smart contracts – The smart contracts represent the asset(s) on the blockchain infrastructure. They code compliance rules into the security tokens, and only eligible investors can hold these tokens. The serious protocols for tokenized securities usually include a token recovery function that can be triggered by authorized agents.
Tokens – The tokens that have eligibility rules embedded into themselves are permissioned tokens, and they can only be traded between eligible counterparts.
Digital identity – Investors have a digital identity that stores verified identity proofs onchain, and smart contracts can check these proofs to verify the eligibility of investors.
Wallets – Once the smart contract code confirms the eligibility of the investor, the permissioned tokens will be allocated to wallets associated with the investor's digital identity. If the private key or access credential is lost, the permissioned tokens can be recoverable to another wallet. This can be processed after the verification of identity by token issuers or third-party agents.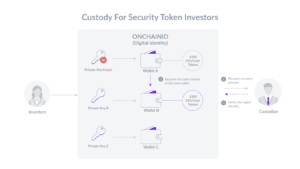 [1] Bloomberg "Venture Capital Makes a Record USD 17 billion bet on Crypto World".
[2] Reuters: "Most institutional investors expect to buy digital assets, study finds".