A hands-on approach to luxury and boutique hotels
Capital V #10 | Interview with Jaume Tapies, Chief Executive Officer of Aina Hospitality
"

Luxembourg has an outstanding reputation, in our investors' opinion, whether they are from the US, Asia or Europe. It has become a global hub for domiciling companies.

"
Interview with Jaume Tapies, Chief Executive Officer of Aina Hospitality
In this interview, Jaume Tapies, former CEO of Relais & Châteaux, co-founder of Aina Hospitality Investment Fund (a fund that invests in the luxury hotel sector), in partnership with the Edmond de Rothschild Group, reveals the key points of the fund's business model and the reasons for deciding to base it in Luxembourg.
What's the origin of the Aina Hospitality Investment Fund?
Aina originated in the Principality of Andorra, where I'm from. It's actually the name of a place where my children and the children of my business partner, Liza Masias, used to go to holiday camp. Liza and I worked together previously at Relais & Châteaux, where I was the international CEO until 2013. Liza's family owns several establishments in Latin America. We identified an opportunity to develop this type of boutique hotel (small luxurious hotels with 40-100 rooms) in major European cities and capitals, whereas Relais & Châteaux are generally located outside urban areas.
How is the Edmond de Rothschild Group working with Aina?
Edmond de Rothschild is one of our founding shareholders. When I left my position as president of Relais & Châteaux to found Aina, we immediately held discussions with the Group, which we knew well as owners of the Domaine du Mont d'Arbois, a superb Relais & Châteaux in Megève. We shared many values, in particular the French art de vivre. To us, it seemed obvious that Edmond de Rothschild would be a sponsor of Aina from the outset of the project. We are also honoured to be part of the Edmond de Rothschild Private Equity platform, which is contributing its full investment fund expertise. Several of the Group's managers belong to our Board of Directors, providing us with their know-how.
Sophie Martinot (Edmond de Rothschild) and Jaume Tapies (Aina Hospitality)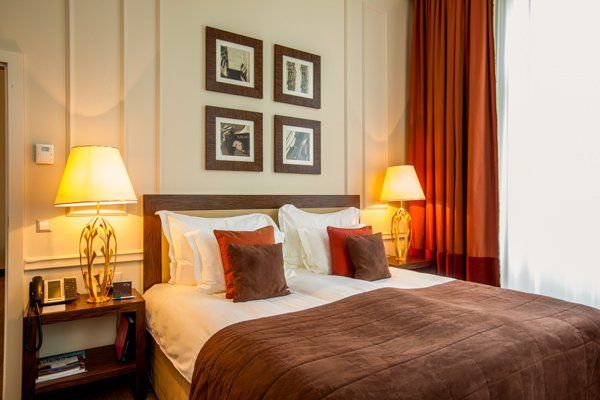 Can you explain the role of these three teams?
The operations team is responsible for analysing quality of service, whether this means the kitchen, room comfort or prices charged. The second team checks in particular whether the brand is the most appropriate for the local market. We own a hotel in Berlin, for example, which is aimed at gay clients and for which we chose a specialised operator that achieves 97% occupation annually. The third team is responsible for improving and enhancing the value of the establishment and carrying out any works.
Aren't your investments challenged and threatened by unfettered competition from online social platforms?
We face ongoing, unrestricted competition every day through multiple distribution channels. We constantly compare our hotels' performance with those of our competitors in the same segment. The data provides a more detailed analysis of our occupation rates and those of other establishments, enabling us to adjust our prices depending on the market.
What are the typical investors in your fund?
Only ten or so investment funds invest in the hotel industry, four in luxury hotels. Practically all of them target institutional investors. We are of course open to such investors but our investment strategy is better suited to private banking or family office clients seeking geographical diversification. Europe is – despite the issues related to terrorist risks, for instance – a stable market in which demand is growing by 4-5% per annum, i.e. faster than the supply of hotels.
Have you identified enough target investments for the planned launch of your Aina Investment Fund II?
Absolutely. Our index accurately identifies potential targets on a real-time basis.
Out of the ten most visited countries in the world, seven are in Europe. Furthermore, 70% of European hotels belong to independent proprietors, but hotel investments are highly capital-intensive. There are many opportunities in European hotels.
How long do you keep your hotels?
An average of five years. This is how long it takes to purchase, carry out works and have a track record of at least three years.
How do you go about reselling your hotels?
Once we have restructured them, the hotels can become highly attractive to institutional investors such as pension funds. These may be strategic or financial investors. We always pit potential buyers against one another.
Why did you choose a Luxembourg corporate structure, a Specialised Investment Fund (Fonds d'Investissement Spécialisé – FIS) for your fund?
Luxembourg has an outstanding reputation, in our investors' opinion, whether they are from the US, Asia or Europe. It has become a global hub for domiciling companies. Luxembourg is close to all the countries in which we invest. The country offers an exceptionally high number of professionals in all areas of expertise. It can also offer a very high quality of service and highly competitive administrative efficiency.
How can Luxembourg further increase its attractiveness?
To increase its attractiveness, Luxembourg must continue to develop its transport network and international links. It should also adjust its company management costs, which are quite high.